SWR Class 442s Enter Passenger Service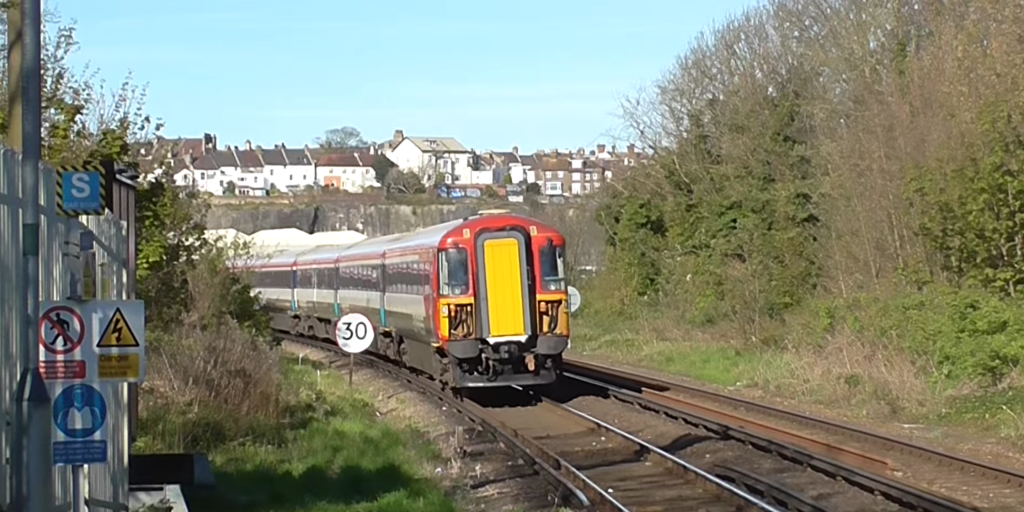 The first of 18 class 442 Electric Multiple Units is expected to enter service this Monday 10th June 2019. The first unit should come from Bournemouth TRSMD on 5B88, then work 1B88 (or 9B88) from 0628 Southampton Airport Parkway to London Waterloo, most likely VSTP.
Update September 2019 : due to issues with signalling systems, 442s have been withdrawn from service. We'll update this post when they re-enter service.
442410 and 442420 should work 9B88 Southampton Airport Parkway to Waterloo on Monday 10th, the live train times can be found here:  https://live.rail-record.co.uk/rail/liverail/train/511989/10/06/19
This is, of course, if their introduction isn't postponed again, but it's looking very promising for this Monday 10th. The 442s were expected to enter service last Monday but were held last minute.
---
SWR Class 442 Entries into Service
Date of first service, unit numbers and the service they worked.
10/06/19 – 442410 + 442420 (9B88) – (now seems to be running as 1B88)
24/06/19 – 442403 + 442408 (9B88)
---
SWR Class 442 Services Operated
SWR Class 442s are now running to Portsmouth Harbour, so please find below some diagrams they're running. There are still no diagrams running at weekends (correct as of August 2019).
(The below departure times should be reflected in the SWR Class 442 Diagrams section further down this page).
0628 Southampton Airport Parkway to Waterloo
0615 Portsmouth Harbour to London Waterloo
Remember that there are only 4x class 442s (2 sets) in service at the moment. This means that the above may not always be 442 operated, because they could run other diagrams.
---
With some restrictions, the overhauled units will enter on Waterloo to Bournemouth. As it stands, they're not permitted on the up and down slow lines between Waterloo and Basingstoke, and there are some restrictions platform-wise at Waterloo. This is mostly due to suspension modifications made when they were with Southern Railway.
The service introduction for the 2019 May summer timetable was also recently delayed due to door obstruction detection software. As well as roof corrosion. The overhauled units will gradually be introduced, with more timetabled units entering in December 2019. The driver will be accompanied by another to monitor the train's routing.
This follows a complete overhaul and retractioning and Bournemouth depot. Eventually, the class 442 trains will be used on the Portsmouth to London Waterloo services, to free up class 450 Desiros for use elsewhere on the South Western Railway network.
6 remaining class 442s remain stored which have an uncertain future, but they are expected to be used by a new open access franchise, yet to be confirmed.
The Class 442s that remain stored are:
442401
442405
442407
442412
442421
442424
Therefore the following units will be in operation with SWR: 2402, 2403, 2404, 2406, 2408, 2409, 2410, 2411, 2413, 2414, 2415, 2416, 2417, 2418, 2419, 2420, 2422, 2423
South West Trains originally used class 442s on their Wessex rail network, but these later transferred over to Gatwick Express for use on the London Victoria to Gatwick / Brighton services. In addition, Southern ran a class 442 between London Bridge and Eastbourne during peak times, ECS to Lovers Walk for the remainder of the day. 2017 saw the complete withdrawl of class 442s on the Brighton Mainline, with a farewell railtour operated by Branch Line Society. This farewell tour ran from Victoria to Beckenham Junction, Streatham Hill sidings, Brighton via Three Bridges Thameslink Depot (down) then return to London Bridge via Three Bridges Depot (up). The tour ran in 10 car formation, 5 car between Brighton and Lovers Walk and Hove / Preston Park sidings with 73202.
We'll update this post with their booked diagrams on Sunday 9th, the day before their introduction in to service.
SWR Class 442 Diagrams
It is expected that in the long run, the below will be operated by 442s. 442s will be gradually entered into service. Not all of these will be worked by 442s yet, until they are all in service.
Monday to Friday
5B92 0511 Bournemouth Depot to Southampton Airport Parkway 0648
1B92 0651 Southampton Airport Parkway to London Waterloo 0801
1P19 0830 London Waterloo to Portsmouth Harbour 1008
1P34 1045 Portsmouth Harbour to London Waterloo 1223
1P37 1300 London Waterloo to Portsmouth Harbour 1435
1P52 1515 Portsmouth Harbour to London Waterloo 1653
1P55 1730 London Waterloo to Portsmouth Harbour 1909
5P05 1929 Portsmouth Harbour to Fratton Depot 1939
5B89 0521 Bournemouth Depot to Poole 0530
1B90 0545 Poole to London Waterloo 0746
1P17 0800 London Waterloo to Portsmouth Harbour 0936
1P32 1015 Portsmouth Harbour to London Waterloo 1151
1P35 1230 London Waterloo to Portsmouth Harbour 1408
1P50 1445 Portsmouth Harbour to London Waterloo 1624
1P53 1700 London Waterloo to Portsmouth Harbour 1836
1P68 1915 Portsmouth Harbour to London Waterloo 2051
1B69 2105 London Waterloo to Poole 2329
5B70 2340 Poole to Bournemouth Depot 2349
5P16 0538 Fratton Depot to Portsmouth Harbour 0553
1P16 0615 Portsmouth Harbour to London Waterloo 0754
5Y03 0803 London Waterloo to Clapham Yard 0831
5B85 1810 Clapham Yard to London Waterloo 1829
1B95 1848 London Waterloo to Poole 2108
5B96 2117 Poole to Bournemouth Depot 2126
5P20 0647 Fratton Depot to Portsmouth Harbour 0701
1P20 0714 Portsmouth Harbour to London Waterloo 0852
1P23 0930 London Waterloo to Portsmouth Harbour 1108
1P38 1145 Portsmouth Harbour to London Waterloo 1323
1P41 1400 London Waterloo to Portsmouth Harbour 1534
1P56 1615 Portsmouth Harbour to London Waterloo 1754
1P59 1830 London Waterloo to Portsmouth Harbour 2009
1P74 2045 Portsmouth Harbour to London Waterloo 2227
1P77 2300 London Waterloo to Portsmouth Harbour 0035
5G22 0715 Fratton Depot to Portsmouth Harbour 0729
1G22 0745 Portsmouth Harbour to London Waterloo 0928
1P25 1000 London Waterloo to Portsmouth Harbour 1134
1P40 1215 Portsmouth Harbour to London Waterloo 1352
1P43 1430 London Waterloo to Portsmouth Harbour 1608
1G60 1715 Portsmouth Harbour to London Waterloo 1859
1P63 1930 London Waterloo to Portsmouth Harbour 2108
5P64 2133 Portsmouth Harbour to Fratton Depot 2147
1P12 0512 Portsmouth Harbour to London Waterloo 0651
1P13 0700 London Waterloo to Portsmouth Harbour 0836
1P28 0915 Portsmouth Harbour to London Waterloo 1054
1P31 1130 London Waterloo to Portsmouth Harbour 1308
1P46 1345 Portsmouth Harbour to London Waterloo 1523
1P49 1600 London Waterloo to Portsmouth Harbour 1734
1P62 1745 Portsmouth Harbour to London Waterloo 1929
1P65 2000 London Waterloo to Portsmouth Harbour 2136
5P65 2146 Portsmouth Harbour to Fratton Depot 2157
Saturday
5P20 0645 Fratton Depot to Portsmouth Harbour 0658
1P20 0715 Portsmouth Harbour to London Waterloo 0851
1P23 0930 London Waterloo to Portsmouth Harbour 1108
1P38 1145 Portsmouth Harbour to London Waterloo 1327
1P41 1400 London Waterloo to Portsmouth Harbour 1534
1P56 1615 Portsmouth Harbour to London Waterloo 1751
1P59 1830 London Waterloo to Portsmouth Harbour 2008
1P74 2045 Portsmouth Harbour to London Waterloo 2227
2P77 2315 London Waterloo to Portsmouth Harbour 0054
5P24 0745 Fratton Depot to Portsmouth Harbour 0758
1P24 0815 Portsmouth Harbour to London Waterloo 0951
1P27 1030 London Waterloo to Portsmouth Harbour 1208
1P42 1245 Portsmouth Harbour to London Waterloo 1427
1P45 1500 London Waterloo to Portsmouth Harbour 1634
1P60 1715 Portsmouth Harbour to London Waterloo 1851
1P63 1930 London Waterloo to Portsmouth Harbour 2108
5P68 2126 Portsmouth Harbour to Fratton Depot 2137
5P26 0817 Fratton Depot to Portsmouth Harbour 0832
1P26 0845 Portsmouth Harbour to London Waterloo 1023
1P29 1100 London Waterloo to Portsmouth Harbour 1234
1P44 1345 Portsmouth Harbour to London Waterloo 1457
1P47 1530 London Waterloo to Portsmouth Harbour 1708
1P62 1745 Portsmouth Harbour to London Waterloo 1923
1P65 2000 London Waterloo to Portsmouth Harbour 2134
5P65 2145 Portsmouth Harbour to Fratton Depot 2155
1P18 0645 Portsmouth Harbour to London Waterloo 0823
1P21 0900 London Waterloo to Portsmouth Harbour 1034
1P36 1115 Portsmouth Harbour to London Waterloo 1257
1P39 1330 London Waterloo to Portsmouth Harbour 1508
1P54 1545 Portsmouth Harbour to London Waterloo 1723
1P57 1800 London Waterloo to Portsmouth Harbour 1934
1P72 2015 Portsmouth Harbour to London Waterloo 2151
1P75 2230 London Waterloo to Portsmouth Harbour 0007
5P75 0014 Portsmouth Harbour to Fratton Depot 0024
Sunday
5B93 1750 Bournemouth Depot to Poole 1800
1B94 1818 Poole to London Waterloo 2011
1G97 2055 London Waterloo to Portsmouth & Southsea 2222
5G97 2239 Portsmouth & Southsea to Fratton Depot 2246
5P30 0909 Fratton Depot to Portsmouth Harbour 0923
1P30 0932 Portsmouth Harbour to London Waterloo 1114
1P31 1130 London Waterloo to Portsmouth Harbour 1311
1P46 1332 Portsmouth Harbour to London Waterloo 1514
1P47 1530 London Waterloo to Portsmouth Harbour 1711
1P62 1732 Portsmouth Harbour to London Waterloo 1914
1P63 1930 London Waterloo to Portsmouth Harbour 2113
1P78 2132 Portsmouth Harbour to London Waterloo 2314
1P79 2330 London Waterloo to Portsmouth Harbour 0109
5P79 0118 Portsmouth Harbour to Fratton Depot 0131
5G94 1655 Fratton Depot to Portsmouth & Southsea 1700
1G94 1726 Portsmouth & Southsea to London Waterloo 1856
1G95 1955 London Waterloo to Portsmouth & Southsea 2122
5G95 2139 Portsmouth & Southsea to Fratton Depot 2146
5P12 0003 Fratton Depot to Portsmouth Harbour 0019
5G96 1755 Fratton Depot to Portsmouth & Southsea 1800
1G96 1826 Portsmouth & Southsea to London Waterloo 1956
1B67 2105 London Waterloo to Poole 2333
5B67 2336 Poole to Poole Sidings 2338
5B84 2355 Poole Sidings to Bournemouth Depot 0006
1P22 0732 Portsmouth Harbour to London Waterloo 0916
1P23 0930 London Waterloo to Portsmouth Harbour 1113
1P38 1132 Portsmouth Harbour to London Waterloo 1313
1P39 1330 London Waterloo to Portsmouth Harbour 1511
1P54 1532 Portsmouth Harbour to London Waterloo 1714
1P55 1730 London Waterloo to Portsmouth Harbour 1911
1P70 1932 Portsmouth Harbour to London Waterloo 2114
1P71 2130 London Waterloo to Portsmouth Harbour 2311
5P71 2323 Portsmouth Harbour to Fratton Depot 2335