Here is everything you need to know about RHTT 2019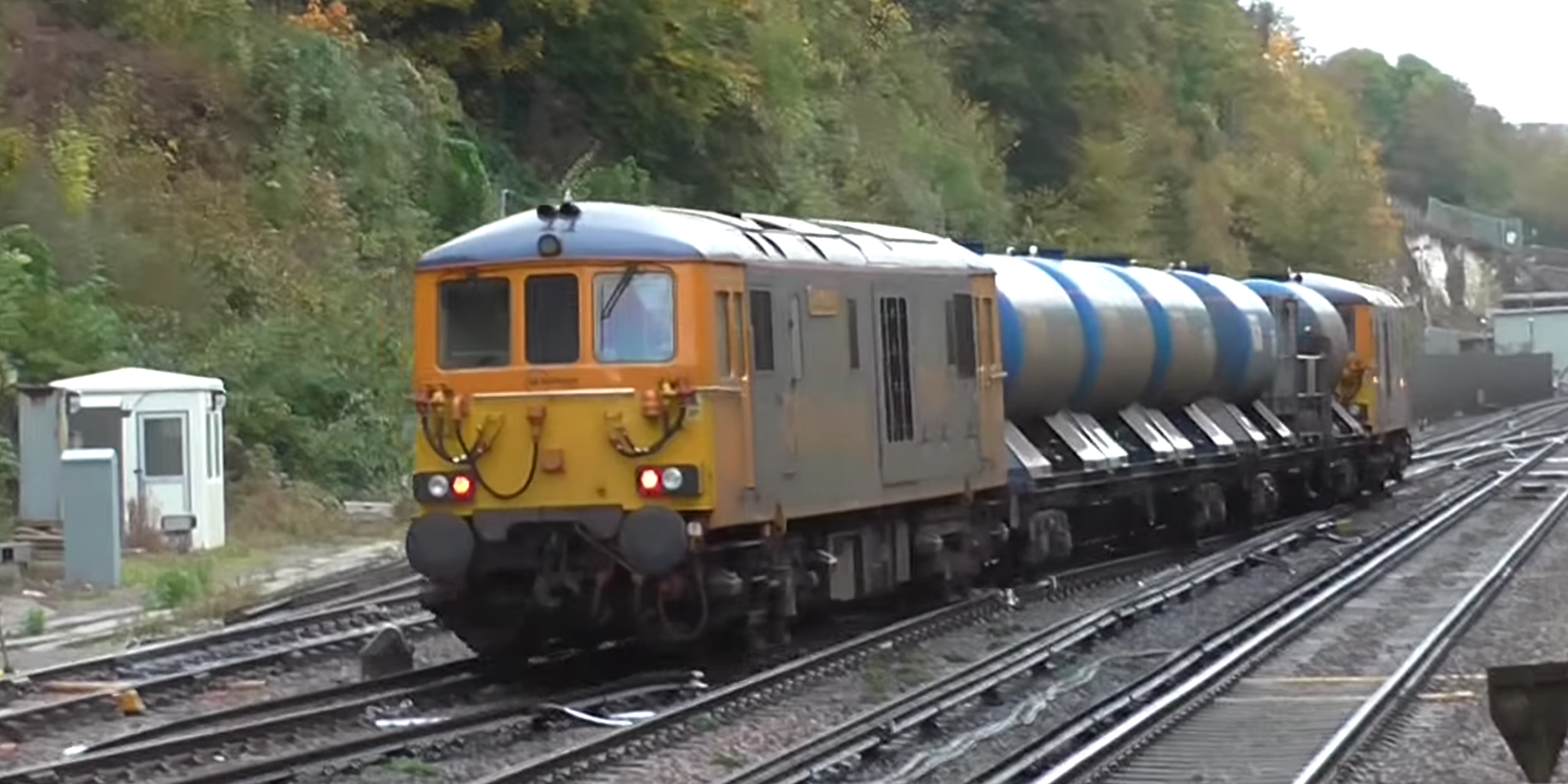 RHTT (Rail Head Treatment Trains) will be starting in a few months(around end of September), here is everything you need to know about the RHTT season for 2019.
What is RHTT?
RHTT stands for Rail Head Treatment Trains. During Autumn, the period of September to December sees frequent leaf fall onto the railway tracks. These leaves fall onto the rails and are crushed by passing trains, causing wheels to slip. These adhesion problems mean trains slip and need to travel slower on approaches to stations, and occasionally have problems leaving stations – this leads to cancellations of services as well as wheel flats on trains.
RHTT trains spray water onto the rail heads. The jets blast away the leaf debris from the rails reducing the occurrence of issues.
UK RHTT trains are hauled by diesel or electro-diesel locomotives in addition to NR MPVs (Multi Purpose Vehicles).
In the South East, RHTT trains are operated by GB Railfreight, using class 66/7 or 73.
In the South West and Chilterns, RHTT trains are operated by DB Cargo, using class 66 or class 67.

Whilst operated by DB Cargo, 2018's RHTT on the Chilterns used Freightliner locos. This is due to DB needing its locos on other workings.

Anglia, RHTT trains are operated by GB Railfreight using class 66/7.
Throughout West Midlands, RHTT trains are operated by Colas Rail, often using class 56.
In the North, RHTT trains are Direct Rail Services, who often use class 37 or class 20 locomotives.
Scottish RHTT trains either see Network Rail Class 97s, DRS 37s or MPV.
Network Rail MPVs, operated by Balfour Beatty and JSD Research and Development, are operated throughout the country, providing additional RHTT services out of locations such as Wigan, Horsham TC, Effingham Junction etc.
When does RHTT start 2019?
RHTT starts at different times of the year throughout the UK. RHTT usually starts around late September / early October throughout the UK. There's usually a few VSTP test paths several days before the services commence. Following this, the WTT paths will start to become activated, and then some days these WTT paths will run. Some days there will also be STP and VSTP RHTT paths.
RHTT trains will use a headcode beginning with 3, regardless of whether it is a real headcode or NR obfuscated one. Either way, we have included the RHTT train headcodes and their associated departure times, below. They will also have a service code usually beginning with a 9. The below headcodes and departure times are valid for 2019 only.
RHTT spray tanks are stored at York Thrall Europa throughout the year, and usually brought to their regional based yards such as Tonbridge, a few weeks before the RHTT programme starts.
RHTT Times 2019
Subject to change, cancellation and VSTP/STP rescheduling if required. These are the WTT paths for this year. You can use Rail Record Live Train Times to see which ones are running on the day. Typical traction is placed in brackets, but actual allocations may vary.
We've bunched all workings for the whole week into one lot shown below instead of splitting them into Monday – Sunday but if you check the live train times for the times listed below you should find the respective ones. We haven't included MPVs (or if we have let us know and we'll get rid of it).
RHTT Loco Hauled Diagrams 2019
---
Those are the loco hauled diagrams for RHTT 2019. If there's any missing, or if any are incorrect, please get in touch below. Some of the above run weekdays, whilst others run Saturdays or Sundays only.
Click on a section below to expand it. You need to have Javascripts and CSS enabled in your browser.